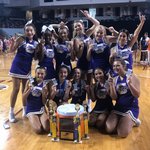 GHS JV Cheerleaders
The Goshen Junior Varsity Cheerleaders participated in UCA Camp this week. The girls represented their school well and came home with several awards:
Rally Routine (Dance): 1st Place
Sideline Chant: 1st Place
Cheer: 1st Place
Overall Gameday: 1st Place
All American Cheerleaders: Z. Warren and A. Ellerman
A. Ellerman was also recognized as a Pin it Forward leadership award recipient.
The squad was one of two squads recognized by the UCA staff as upholding the traditions and values of their school, receiving the UCA Tradition Award.