Math Teacher, Cheer Coach, Senior Sponsor
Courses Taught:
Algebra I, Algebraic Connections, Geometry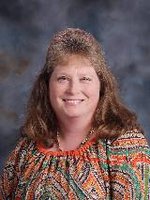 Hello and thank you for visiting my webpage. I am currently in my 18th year of teaching math at Goshen High School and I am also the department chairperson. Since I began teaching here in 1998, I have taught every math class from seventh grade to Algebra II with Trigonometry.
I am originally from Bay Minette where I graduated from Baldwin County High School in 1989. I then attended Faulkner State Community College from 1989 to 1991 where I received an Associates Degree. I then transferred to Troy University in the summer of 1991 to begin my degree in Math and English Education. While at Troy, I met my husband. We have been married for 24 years and have three children: Richard, Ashley, and Kristian. Richard is a Graduate Assistant at Delta State College in Mississippi where he is working with the baseball team and earning his graduate degree. Ashley is a freshman at Troy University and Kristian is a student at McKenzie High School.
I taught in a couple of different schools before finding my home at Goshen. My students always ask me why do I drive all the way from McKenzie to Goshen to teach. I tell them that I like the people I work with, teachers and students. For the most part, we have a very good student body. The students here at Goshen make the drive worth it all.
3-ring binder
pencils (regular or lead)
loose leaf paper (wide or college)
dividers with tabs on the end
calculator: scientific calculator
graphing paper
First Semester Schedule
1st Block - Geometry
2nd Block - Geometry
3rd Block - Geometry
4th Block - Planning
Second Semester Schedule
1st Block - Geometry
2nd Block - Algebra I
3rd Block - Algebra I
4th Block - Planning
First Block Algebra I text @97cg3 to 81010
Second Block Algebra I text @24gf6 to 81010
Third Block Geometry text @b4aee to 81010